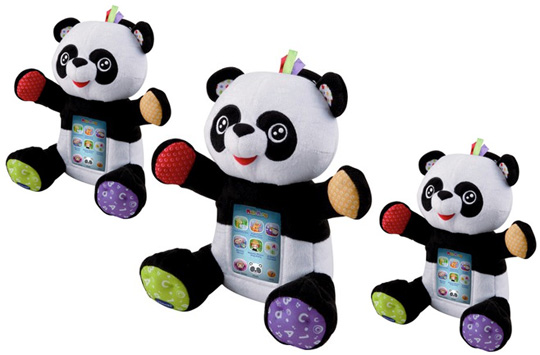 Get yourself over to Debenhams and you'll be able to pick up a Vtech Smartphone Panda for £7.56.
I usually have a lot of respect for Vtech and their toys - in fact, my very first PlayPennies post was a Vtech something or other. I wonder if a Vtech something will be my last too, I write about them often enough, so the chances are good! - but I can't help thinking they've sold their toy souls to the devil with their Smartphone Panda.
Billed as a combination of protective smartphone cover and cuddly friend, the Smartphone Panda is, apparently, the ideal companion for your baby - why on EARTH would you give your smartphone to your baby?
Toddler, I can get - the Doodebuddy app has kept my youngest son amused for many an hour - but BABY?!
The Smartphone Panda also comes with a convenient strap to keep it attached to a pushchair or car seat, and there are six Vtech learning activities (apps to the normal man on the street!) available to download and will teach animals, shapes, body parts and more - because baby's in pushchairs and prams are into that sort of thing.  You can do other things, like create an avatar for your child, make movie clips and take screen shots to show friends and family too. 
Smartphone Panda's original price was £15, now he's £8.50, but with discount code CK43, he's yours (if you like this sort of thing) for £7.56 and delivery is free too.
Thanks to xposure at HUKD