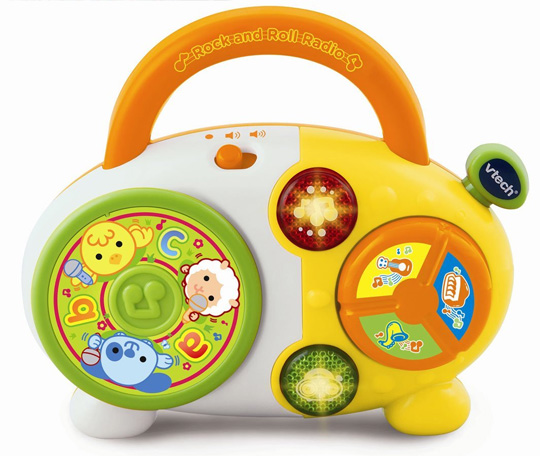 Amazon are selling this Vtech Rock and Roll Radio for just a little bit less than it's full price - £8.80 instead of £10.99. Not spectacular, but as it's Vtech the full price if very often always worth paying anyway.
This cute little Vtech Rock and Roll Radio is suitable for little ones aged six months and over; I'm sure they can have one when they're younger than that, they just won't be able to get to grips with turning the dials until they're a little older.
They'll learn about musical instruments from fun phrases that will help coax out those those first words. There are colourful graphics and flashing lights to attract their attention, and when they can turn the dials and press the buttons they'll be developing their motor skills and learning about cause and effect concepts - not that they'll know they're doing that!
How's this for a review...
"My son LOVES this!  It has a variety of sounds and little songs, so it doesn't get annoying - not more than you can bear- and that is a big plus for at toy with sounds!  He loves the blinking lights and dance around, bobbing his little head. BUY THIS FOR YOUR CHILD!"
Okay then! I think that makes things pretty clear!
Here are a couple more:
"Our daughter loves this radio, there are many music options and is easy, to push the buttoms for her, we recommend this to everyone, who has a little baby:-)"
"This toy is a must have! The tunes, animal sounds and different musical instruments are great! Surprisingly this toy has many songs so you don't get bored like many baby musical toys. The radio mode is fantastic, you can hear the dog, the bird and the sheep singing, my baby always smiles and giggles when she hears this (since 6 weeks old), in fact this was one of the first toys that got her to giggle! The main tune (the cd button) is also great!"
Thanks to taswir1 at HUKD