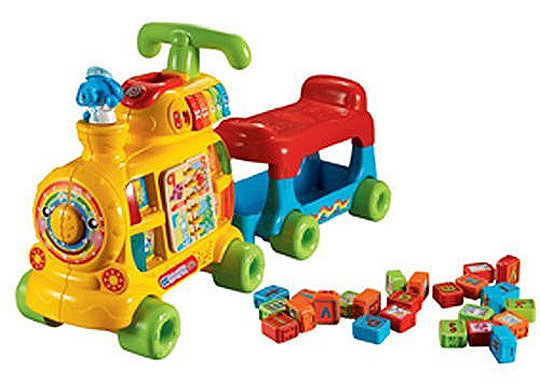 I often wonder how many people, if any, would have the courage to delay Christmas day by a few days and have it on, say, 27th or 28th of December?  You could save yourself a ton of cash and heartache if you did: you'd be able ignore the mad pre-Christmas rush and save yourself a ton of cash in the process too.
For example, this Vtech Ride on Alphabet train is now £18.99, instead of £49.99 - now, as this is Amazon, it's likely to have been this price before yesterday, but you get my point.
Good old Vtech - here's another of their toys that will grow with your child as they grow as it features sit-down, walker and ride-on play.
It also has 13 chunky letter blocks that must be put into the letter hotspots to hear the driver introduce letters, objects and animals.  The driver - he sounds like a really helpful chap (some of the bus drivers I've encountered over the years should take note!) will encouragingly ask your little one to find objects, animals and letters in conjunction with the 14-page non-rip alphabet learning book.
There are also 'follow-me-lights' and a motion sensor which activate 10 melodies and promote independent play too.
Thanks to Meena1 at HUKD