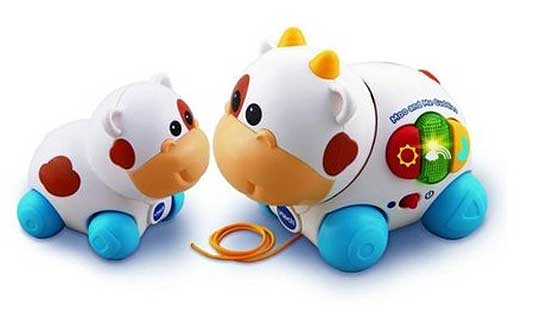 Wilkinsons are selling this very cute Vtech Moo and Me Cuddles toy for £7.50 - Amazon are selling them for £14.99.
I'm in a rather cuddly mood today - I don't know what's triggered it off but I'm not feeling my usual feisty self, which drew me to the world 'cuddles'.
I have to say, this is a sweet little concept in learning toys for little ones:  the baby cow learns first words and phrases from the mummy cow and, being Vtech, there are the obligatory sounds, songs and melodies to enjoy too.
Sensors in their mouths trigger off cutesy phrases and kissing sounds and the melody plays when you pull mummy cow along - if all this talk about sounds, melodies and phrases is scaring your sanity...fear not, there's a fabulous on/off switch too.
Vtech Moo and Me Cuddles is suitable for little ones aged between nine and 24 months or so, and the two AAA batteries required are included.
You can choose to have your Vtech Moo and Me Cuddles delivered to your nearest Wilkinsons for free collection, or you can have it delivered to your home for £3.50 - I think we'll pass on the home delivery, thanks all the same Wilkos!
Thanks to CazJ78 at HUKD