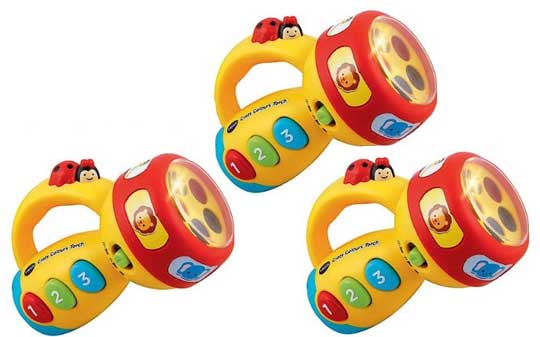 Asda win the prize for having the lowest price on this Vtech Crazy Colours Torch - they're selling it for £9, the rest of the usual suspects have it priced at around £10.99.
I'm not usually one for plastic toys, but I can generally make exceptions for Vtech (and Leapfrog) toys - their educational value and quality outweighs the fact they're invariably plastic and always play some sort of tune.
This Vtech Crazy Colours Torch will appeal to every young child, I've yet to come across ONE who didn't (or still doesn't) enjoy messing around with torches in the dark.  And with it being dark early now, it does mean you'll be able to sit in the darkness of your child's room rather than the cupboard under the stairs!
There's a lady bird button on the top of the torch handle, when she's pressed she plays fun phrases and a happy song which will encourage listening skills and help to develop first words.
Five different coloured lights and animal picture create visuals on the wall, or ceiling, to attract your baby's attention.  To find the animals you simply turn the ring to discover them and the sounds they make.
Then, as if the above wasn't enough, there are three buttons to be pressed on the side - these will help to teach colours and numbers to the background beat of uptempo melodies.
If you arrange to pop into your local Asda store to collect your Vtech Crazy Colours Torch then you won't have to pay anything on top of the £9 purchase price, otherwise standard home delivery will cost you an additional £2.95 and will take up to five days.
Thanks to FLORALIQUE at HUKD