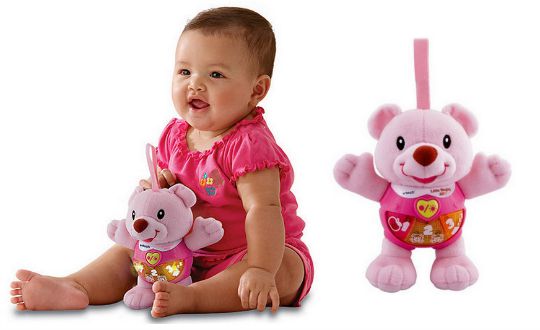 The VTech Baby Singing Alfie toy has been popular for years, and makes a wonderful gift for babies. Debenhams have reduced the price of the pink version down from £12, then to £8.40, and now it's half the original price at just £6. At the moment Singing Alfie is around £10 or more in other retailers, so £6 is a great price for this toy.
Singing Alfie is suitable from 3 months of age, and is a cuddly bear with a tummy that has flashing lights, buttons, tunes and sounds. It's got a sweet friendly voice to reassure babies whilst encouraging them to develop first language skills. The three interactive buttons on the singing teddy bear teach the numbers 123, and it also promotes motor skills and early learning. Different textures and flashing light provide tactile and visual stimulation for little ones as well.
I'll tell you now that the singing does get a little annoying for us grown ups, although it never seems to bore babies as this review makes clear:
I will admit to purchasing this as a slight punishment for a brother who has delighted in buying drums and weapons for my boys over the years. This is a durable toy that we have had before. Note of caution, do not leave in reach of a stray hand in a car when you are on a 4 hour non stop journey. The sound of "I'm a friendly light up bear, I'll teach you 123" for 4 hours nearly made it take flying lessons. However the kids loved it, and I hope my brother and his daughter will do too ;-)
You can click and collect Singing Alfie for free from Debenhams stores, or home delivery charges will add an extra £3.49 to your order.