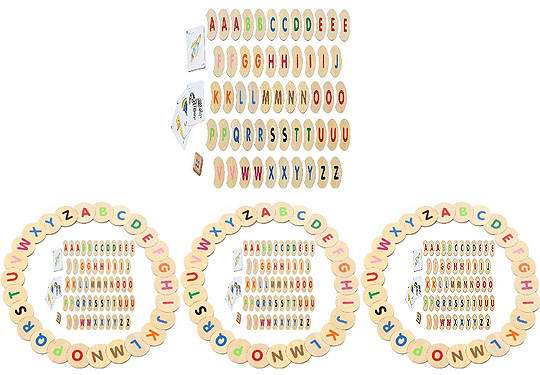 Amazon are already tinkering with the price of this Voila Alphabet Puzzle game; when I first saw it it was £9.90, it's already gone up just a little bit to £10.57 - its full price is an enormous (for a wooden puzzle game) £29.99.
This Voila Alphabet Puzzle game isn't like your usual alphabet jigsaw puzzle - it features 55 wooden pieces with the alphabet letters printed on each piece, 26 picture cards each displaying 2 things (one on each side) that begins with each letter of the alphabet and one die.
The pieces are made from wood that is sustainably sourced - I like this, I also like that there are more than one of each letter (with the exception of J and Q) so you're not limited to forming words that only use one of each, simple sentences also become possible.
If you have a little one who's just about to embark on the amazing journey that is learning the alphabet and getting to grips with word formation, then this Voila Alphabet Puzzle game will help them along that path.
Thanks to wishihadadonkey at HUKD