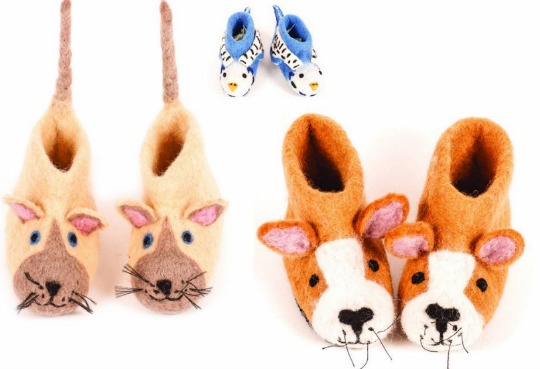 Have you ever heard of Sew Heart Felt? They are a British company that design rather quirky children's items, normally featuring animals, and are handmade around the world using traditional crafting methods. I have been toying with the idea of buying a pair of Slippers from them but they don't normally come cheap. Having said that, Internet Gift Store have three designs reduced to just £10, instead of £24.95. Plus you can get an extra £1 off when you use promo code ICLICKED at the checkout. They are also offering FREE delivery on all orders just now.
The photos of these on Internet Gift Store really don't do them justice. They feel great quality and are an ideal gift if you want something that will really stand out. Each pair come packaged in a cheesecloth type sack.
There are four sizes to choose from (expect for the Budgie ones, there's only Small left): Small: 0-1yrs (Size 1), Small/Medium: 1-2yrs (Size 4), Medium: 2-3yrs (Size 8) and Large: 4-5yrs (Size 10).