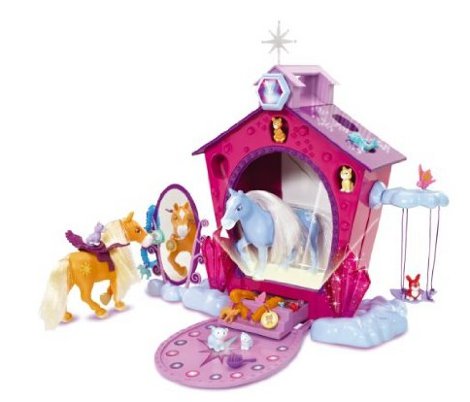 Twilight Ponies live in the Magical Midnight Star Palace, which is currently on offer at Amazon for £13.68 – 45% discounted from £24.99.
You might not know – or care to know - this, but Twilight is actually the winged pony who lives in the Magical Midnight Star Palace, but you don't seem to get her with this set, but instead you're given the exclusive 'Snowflake' (so exclusive, she's not even featured on the Twilight Ponies website) and her buddy (each Twilight Pony has its own pet).
The Star Palace has a 'glowing magical midnight portal'. So, you can turn the clock to midnight and the cave lights up and makes the ponies hooves and charms glow.
The palace comes with a pull out mirror, and space for your little one to hang their charms and bracelets. The palace has a Star Buddy Den with a magic cloud lift and star swing, plus pods and platforms to sleep and play in.
And finally, the Star Palace has a secret jewellery storage compartment, perfect for hiding, well, jewellery.