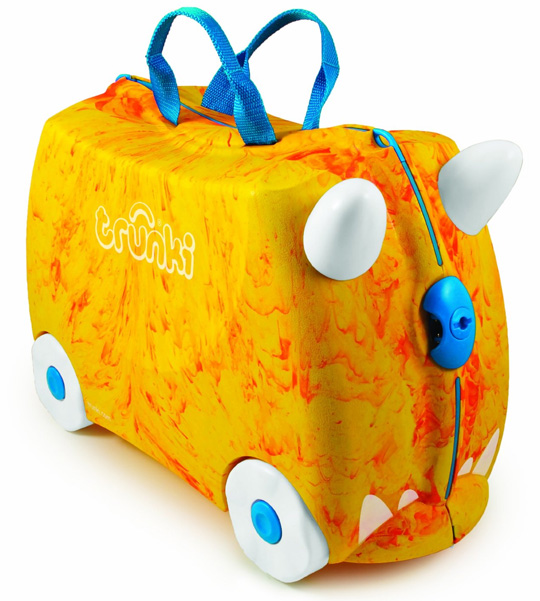 Ooooh, I always get scared when Amazon run a really good deal and I decide to tell you about it - far too many times have Amazon bitten me on the backside by putting up the price the moment any of you decide to have a look at it!
But fortune favours the brave, and all that, so here's a rather terrific Trunki deal for you: a Trunkisaurus Rox for £19 instead of £39.99.
I remember watching the Dragons' Den episode where they pulled the Trunki to pieces and told the designers they would never sell any - there's something incredibly satisfying about the Dragons getting it so very badly wrong!
I'm sure most people on the planet are familiar with Trunkis by now but just in case you're not one of them, here's a quick Trunki 101:
They are little ride-on/pull-along suitcases for kids
They were famously rejected by the Dragons on Dragons' Den and have subsequently taken the luggage market by storm
They come in various colours and conform to current hand luggage size restrictions across all the airlines
Riding on or pulling along their Trunki reduces the stress and strain on young joints, which is one of the main reasons for their invention
The usual retail price for Trunkisaurus Rex and Trunkisaurus Rox is £37.99 but, for now, Amazon have taken 21% off and are selling them for £29.90 (£29.99 for Trunkisaurus Rox before anyone starts getting sniffy about me misquoting by nine pence).
If you don't mind waiting a few days for your Trunkisaurus Rox to arrive then choose Amazon's free SuperSaver delivery option; if you need it pronto, then pay a few extra pounds to have it delivered sooner.
Thanks to tashyt at HUKD