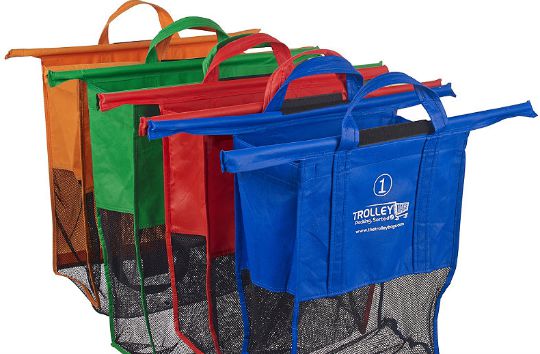 From the 5th of October if you're out shopping in England and need a carrier bag, you'll be charged 5p. This is to bring England into line with the rest of the UK where it's been in force for some time now. Lisa wrote about this here asking, "The 5p Carrier Bag Charge: All About The Environment Or Another Shopping Tax?" I like to think it's the former but either way living in Scotland and having had the 5p charge for almost a year it has changed the way I shop.
I have to be honest and admit that before the charge was introduced in Scotland I tended to go shopping, picking up as many bags as I needed and then binning the majority of them ( I know, I know) BUT after the charge was introduced I was still picking up bags but I couldn't just put them in the bin now, I'd paid 5p for them! It was time to make a change, the little storage space I have was being taken over with "Bags for Life".
After a bit of research I fell in love (not sure that's an exaggeration either!) with "Trolley Bags" You'll no doubt have seen our Facebook video on these and they are every bit as impressive as they look. Not only have I got my storage space back, I finally feel like I'm doing my bit for the environment too.
Lakeland have two sets, a deep set (the ones I have) and a shallow set for smaller trolleys.
You can click and collect for free, home delivery will cost you £2.99 unless you spend £30 or more – then it's free.
If you can't collect and are opting for home delivery, check out the blog Lisa wrote at Packing Sorted, they work out at £21.98 delivered to your door.