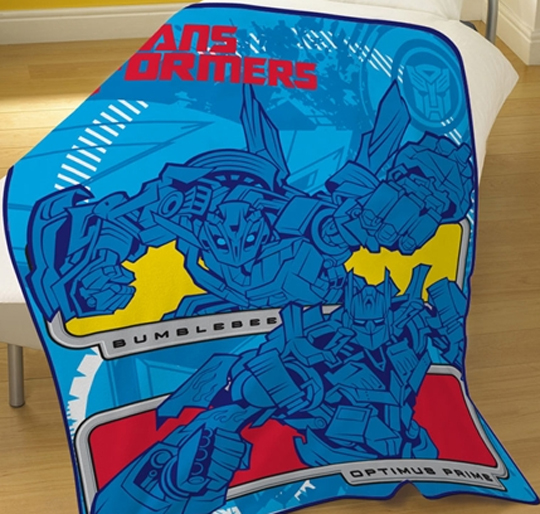 It's a good job I didn't buy the Scooby Doo fleece blanket I told you about yesterday - because I've just seen this Transformers fleece blanket, for £3.49 rather than £9.99, instead.
So I was going to buy the Scooby Doo fleece blanket for my youngest son but got distracted; this morning I came across this Transformers fleece blanket and am now debating which one he'd like more!
He loves Scooby Doo, having only recently discovered the delights of Scoob', but he's been a Transformers fan for A-G-E-S - so, Scooby fleece or Transformers fleece?  Scoob' or Transformers?  It's a tough call.
Still, I suppose if that's all I've got to worry about then life can't be bad hey!
This Transformers fleece measures approximately 120 x 150cm and is made from 100% polyester - this makes it a dream to wash and dry, you can't beat fleece 'anythings' for super fast drying times.
It can be washed up to 40C (although 30C is better if you can get away with it) and can be thrown in a tumble dryer (although on the line or over a radiator is better!).
There's no delivery to pay, so £3.99 is going to be the total outlay to get your hands on a Transformer fleece blanket.
Thanks to Wadjet at HUKD