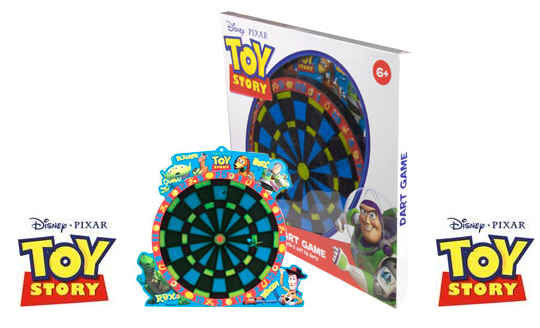 Home Bargains are selling this Toy Story dart board for £9.99 rather than its full retail price of £24.99.
Let's. Play. D-A-R-T-S!!!  I love watching darts! I know I don't seem the type but it reminds me of being little and watching the likes of Jockey Wilson and pals on TV on a Saturday afternoon at my nan's.
It's not quite the same these days - to be really authentic darts, a'la the 'old days', your darts players need to be throwing arrows with one hand whilst deftly holding a pint of beer and a cigarette in the other!
It's still compelling stuff though and I'm still absolutely rubbish when it comes to throwing darts myself - I refuse to stop trying though, one day I might actually hit the numbers on the board that I aim for, rather than just being happy if my darts hit the board at all.
Anyway, enough chat!  This Toy Story dart board is a GREAT way for helping your child to develop some killer mental arithmetic skills, not to mention hone their aim and hand-eye coordination.
It has a diameter of approximately 44cm and comes with six soft-tipped darts that stick TO the board, rather than scary pointy-ended ones that do damage to surrounding walls and wooden floors *oops!*
If you live close to a Home Bargains store then you can pop in and collect your Toy Story dart board for free (four days after you've placed your order), failing that you'll only pay up to £2.95 for home delivery, which isn't so bad (Argos!)
Thanks to hayleytb at HUKD