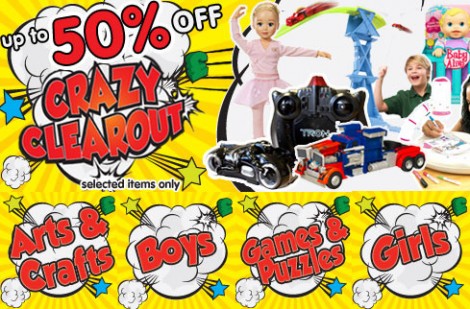 The Toy Shop - or The Entertainer (whatever their name is) - are having a MASSIVE toy clearance.
I love buying toys for my youngest, especially if I don't have to pay full price for them.
The Toy Shop have hundreds and hundreds of items in their toy clearance that there's easily going to be a few things there for you.  I hate to mention the C word when summer's barely got going but I'm going to anyway; events like this Entertainer/Toy Shop toy clearance are ideal times for reducing the cost of that festive time of year that happens in December.
There's up to half price to be saved on arts and crafts bits and pieces with big names like Crayola included.
In the Boys Toys section there are Ben 10, Transformers, Tron and Battle Machine bargains to be found.
For girls, Baby Alive, Dora the Explorer, Fur Real Friends and the lovely and AMAZING LalaLoopsy dolls along with lots of other girly things to delight them.
There are discounts on Outdoor Toys, Pre-school Toys and games and puzzles.
If you have an Entertainer toy shop local to you then you can arrange to click and collect your toy clearance purchases; otherwise you'll pay for delivery unless you spend over £30 - which, quite frankly, would be rather easy considering all the bargains you could pick up for that money.
Thanks to amibees over at HUKD