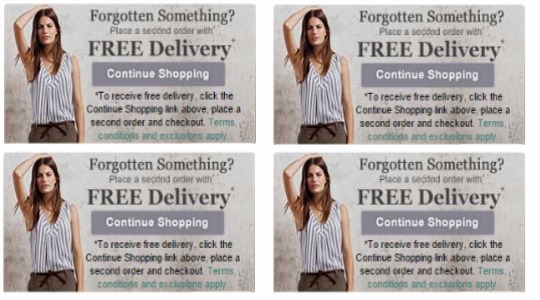 Next rarely offer FREE Next Day Delivery and this can be rather annoying, especially when you are spending £££'s. As a very regular customer, I have never found fault in their delivery service and it is handy to be able to order up until 10am and receive your items the next day. I just don't want to pay the £3.99, and I bet you feel the same. I have found a great way to swerve that Next Delivery charge...
How do you get around it?
Head over to Next*, simply order something cheap like this 
Once you have added this to your account or have paid for it, you should see a little banner at the right hand side like the one pictured above, it will give you FREE delivery off of your next order with Next. Select your order, go to checkout and select the delivery option. This time you will see that it's FREE even for that Next Day Home Delivery! Saving yourself £3.99.
You might be sat there thinking but I still have to collect that item that's instore, so why don't I just do my whole order to collect from store? This is a handy trick if you need that Party Dress for tomorrow and don't have time to go into town or maybe your child has just handed you a note that the Fancy Dress Party is in a couple of days. Using this trick means that you can get your urgent items to your door for FREE and then collect the non urgent items when it's convenient.
Here's what you will see when you follow the tip above: