Tommee Tippee Explora Feeding Spoons £1.99 @ Tesco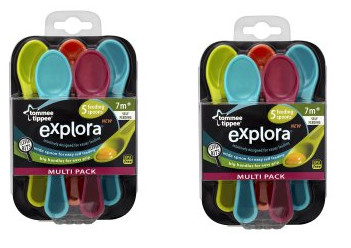 Tesco has it's baby event on at the moment, and one of the items on sale is a set of five weaning or feeding spoons. These were £3.99 but until the 3rd of February, they're £1.99, which is a pretty good price for spoons many parents swear by.
I never really did spoon feeding when my daughter was a baby, opting for baby led weaning instead, but a tip I was still given repeatedly at the time was to give my daughter a spoon to hold while I fed her. Apparently that way they are distracted enough by the spoon in their hand to not want to grab for the one incoming.  I'm not sure how well that works, but it seems the tipsters had good results that way.  Either way, five spoons are great as you can have one in your nappy bag, one in the dishwasher, one in baby's hand and two in use, one as a back up in case the other lands on the floor - not an impossibility.
These spoons are wide for easy self feeding, and have big handles for easy gripping by tiny hands. They are plastic, and are BPA free.
Apparently they're suitable from about 7 months, although I'm sure you can use them under supervision whenever baby is reaching for a spoon to hold.
Thanks to snoozeyouloose at HUKD