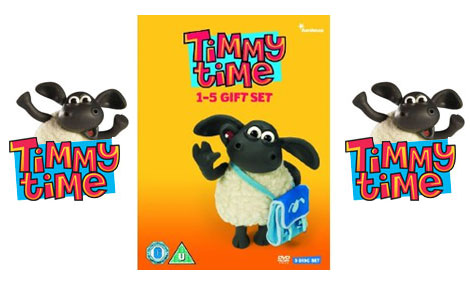 If you're a Timmy Time fan then you might want to pop over to Amazon - they're selling the complete Timmy Time DVD box set of series one to five for £10.77.
The other usual suspects are selling it for between £12 and £20, so Amazon definitely wins the prize for the lowest price...at least they will do if they leave its price alone, we know what they're like!
I loved watching Timmy Time with my youngest when he was small - well, smallER, he's still only almost six (I got told off the other day for saying he was five, apparently he's NOT five he's ALMOST SIX and this is a very important fact!) - he used to giggle away watching Timmy getting up to mischief with his friends.
Timmy is the baby cousin of Shaun the Sheep, of Wallace and Grommit fame, just in case you didn't know; he's very funny, very cute and very cheeky.
There are 350 minutes of glorious Timmy Time entertainment to be had watching this Timmy Time DVD box set; I wouldn't recommend watching them all back to back, I know I said Timmy Time was great to watch but even this might be a bit much.
All the usual Amazon delivery options apply.
Thanks to andywedge at HUKD