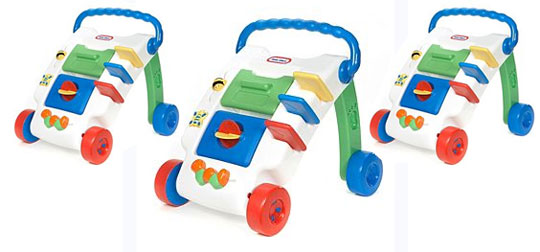 Asda are selling this Little Tikes Activity Walker for £15, instead of £25.  If you're looking for a basic walker, rather than one with lots of bells and whistles on it, then this could be the activity walker for you!
We're used to the Vtech activity walkers here at PlayPennies and they come more things to poke, prod, push and slide than any child could ever wish for, they're also more expensive.
I umm'd and ahh'd about whether it was worth telling you about this deal, but (obviously) decided I would - you might want something nice and simple, without all the extra jangly bits that feature on other walkers.
It has soft textured wheels that you can adjust the speed of, I think this is a rather nifty little feature and means the activity walker won't be 'running away' with your child when they're first finding their feet.
It also folds flat for playing with on the floor and it's toy features are: a spinner, a clicking butterfly and caterpillar, a sliding bee and three little plastic envelopes to post into the letterbox slot.
Delivery for collection in-store is free or you can pay £2.95 for standard home delivery.
Thanks to kirstyme at HUDKD