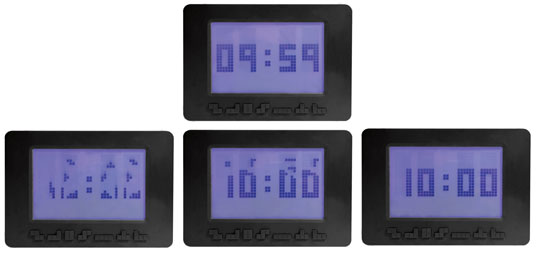 Amazon are selling this awesome Tetris alarm clock for £11.99 - its normal full price is £24.99.
WOW I love playing Tetris - the adrenalin that starts to rush when those tetriminos started to fall faster and faster, and get closer and closer to the top of the screen - oooooh, they are tense times!
I think you have to be of a certain age to appreciate the, what can only be described as, 'coolness' of this Tetris alarm clock - I'm not sure my 17-year-old daughter would get why I'm quite so smitten by it.
AND, it's not just a boring Tetris alarm clock that has a Tetris design, oh no!   THIS Tetris alarm clock has tetrimino shaped buttons, the alarm sound is actually the Tetris music, AND the time display is made from constantly falling tetriminos -  how cool is THAT?!
The flat screen is backlit and there's the obligatory snooze function too - I think this Tetris alarm clock is an absolute MUST GIVE pressie to any Tetris fan; seriously, they will love you forever.
Thanks to youldyboy at HUKD