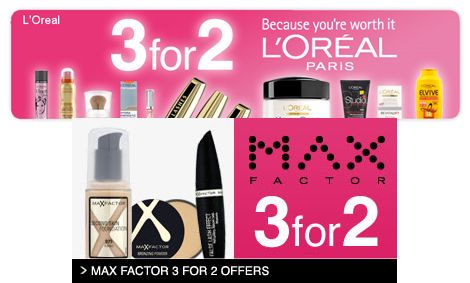 Here's a promotion code that will snag you a 15% discount on anything and everything at Superdrug.
Discount: 15%
Minimum Spend: £0.00
Promotional Code: BRINGONTHESUN (this IS case sensitive)
Click HERE for this super discount at Superdrug
Superdrug will always have a special place in my heart!
From my young teenage days when it was a must-visit shop for electric blue mascarra, cheap nail varnish, Shockwaves Mega Hold hairspray and their own-brand coconut sun gel (sun cream wasn't the 'thing' back then!), all the way through to today for similar things but without the cheap teenage slant (I don't wear electric blue mascarra any more!), Superdrug has always been a reassuring presence on the highstreet.
Hurrah for Superdrug online! I can get all the things I need without having to do battle with other shoppers and all of their 3 for 2 offers that are in store are available online too.
Add to this the 15% Superdrug discount you'll get with this promotional code and you could save yourself a fair few pound coins!
They currently have a 3 for 2 offer on all L'Oreal, Max Factor and Revlon products. You can get two Piz Buin sun products for just £12 and two John Frieda items for £7 - which means some serious bargains!
I've tried various combinations of all products, including fragrances, and the 15% promotional code works in conjunction with all offers.
Delivery is free if your original order totals over £25 (even if the 15% discount takes it under £25) otherwise standard delivery is just £3 or £5.50 for next day if you're in a bit of a hurry.
Happy Superdrug shopping!
Thanks to grumpiness over at HUKD