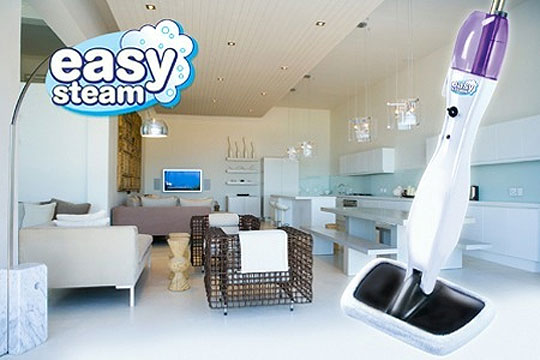 Okay, so it's not fun and it's not glamorous but this steam mop is really doing it for me - especially as I'll be able to pick one up for £27 instead of £80.
My kitchen isn't small and the floor is tiled with pale stone coloured tiles; the kitchen extends into the utility room, as do the tiles, and this is the route in and out of the house that sees the most traffic.
Muddy footprints, even more muddy boot prints and a hundred million muddy paw prints can be found on both floors on a regular basis - I want to have a less-than-friendly conversation with whomever decided that PALE coloured tiles would be a good idea!
A standard mop really doesn't do a good enough job for my liking, so you'll often find me on my hands and knees cleaning both floors by hand; it's not fun and it takes forever  and now you understand why this steam mop has me feeling a little giddy.
Just imagine, a super clean floor for very little effort and no need for any floor cleaner either; fabulous and, by the way, the mop head is machine washable.
This Groupon deal for a steam mop expires in just under two days from now.
Happy steam cleaning!