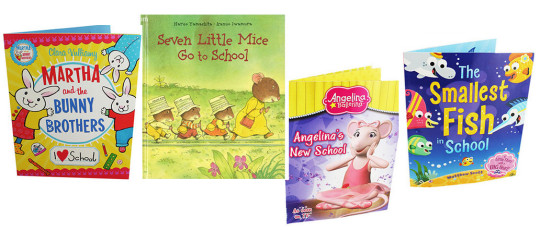 The Works has a bunch of 'Starting School' books that will be ideal for those heading off to school at the end of the summer. I don't know about other children, but mine relate so well to story books that introducing a new concept or idea by way of a story is always a really useful and helpful approach. Use the code for free delivery.
Head over to The Works for a 'starting school' story book for your pre-schooler*
Discount: Free Delivery
Minimum Spend: None
Offer Code: B8UEWQ
There are four book in this section that I think would work well. You probably don't need all four, but with free delivery and no minimum spend, one or four makes little difference. The Smallest Fish In School* is £1.99, Angelinas New School* is going for £2.99, Seven Little Mice Go To School* is £1.99 as is I Heart School - Martha And The Bunny Brothers*
To use this code, go to the Shopping Basket page and enter it in the Promotion Code box. Your basket will be automatically updated.
You can find lots of promotional codes in our vouchers section, as well as all the promotion codes for The Works.