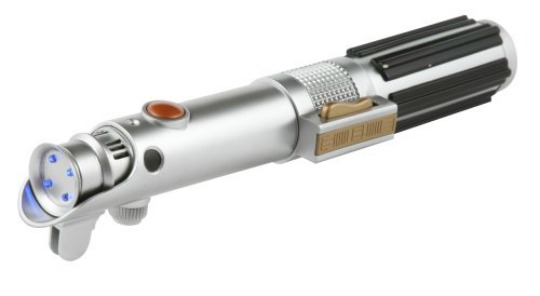 This Star Wars Lightsaber torch is a pocket-friendly £6.99 instead of £14.99 at Amazon right now.
This is supposedly a life-size replica of Anakin's lightsaber, and it makes authentic lightsaber sounds when turned on and off, and emits a cool blue light. The reviews for this are pretty funny (evidently many of them written by serious Star Wars fans who are significantly older than the eight year olds that this is surely made for) but here's a sensible one:
"This is great for the money! Nice heavy / sturdy feel to it and great blue light that shines in more of a glowing shaft of light, not a regular torch. Has sound effects too. Not really a toy, just a bedtime accessory. Would be good for children that don't like the pitch dark - could build confidence too by having at side of bed / under pillow in case they need the bathroom in the middle of the night. They get to take their lightsaber instead of a normal torch or having to turn a harsh light on (or worse, not going!) 100% happy with it!"
Suitable for children aged between 4 and 10 years, this requires three AAA batteries which are not included, so don't forget to pick up some of those before you hand this over to a budding Youngling, or you could have a mutiny on your hands.