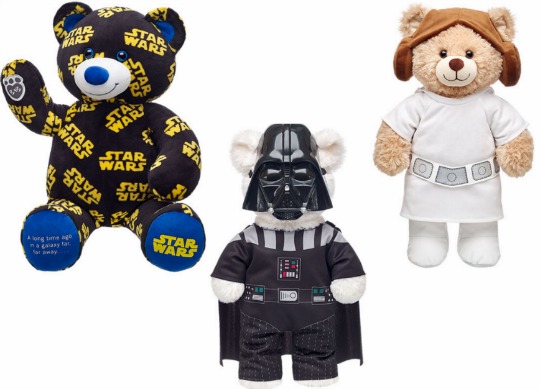 What happens when Build A Bear collaborate with Star Wars? A really awesome collection of clothes and an uber cool Teddy Bear, that's what. To celebrate the launch of this collaboration, Build A Bear are offering the Star Wars Bear plus any of the Star Wars Clothing for just £22.99. That means you can save as much as £11.01!
If you are a Star Wars fan then you are going to LOVE these, forget about the kids!
This special 41cm Star Wars Bear* is £19 on it's own but add any of these Star Wars Clothing items, R2-D2 Hoodie*(£8), Princess Leia* (£15),  Darth Vader* (£15), Boba Fett* (£15), plus many more, and you'll only pay £22.99. What a Christmas Present that would make for anyone that likes Teddies or Star Wars.
These Bears aren't included in the clothing offer but are really, really cool: 43cm Stormtrooper Bear* at £27 and 43cm Darth Vader Bear* also £27. I think one of these might just find themselves in my home by the end of the week.
You can have your Build A Bear/Star Wars goodies delivered for just £3.25 to your front door.