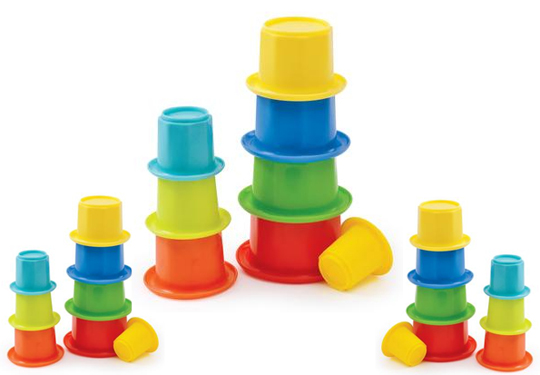 Wilkinsons are selling a wonderfully simple set of stacking cups for £1.99, half their usual price.
I wonder how many hours of my life I've spent playing with stacking cups?  It's amazing how much fun can be had by seeing how many things you can tower one on top of the other before they fall over.
I'm not sure who enjoyed playing with stacking cups more - me or the kids?!  If there are cups to be stacked or balancing toys, like Jenga and similar, then I feel utterly compelled to stack them - I can't just leave them messy.
I adore the simplicity of stacking cups - there are no batteries required, there are no flashing lights, no bells, no whistles, no tunes or 'favourite phrases', just good hand-eye coordination and fits of giggles when everything comes crashing down.
Stacking cups are also great for playing with in the bath and in sand pits; all in all, they are just all-round awesome and one of the cheapest toys you'll ever buy.
If you arrange to collect your stacking cups in-store, when you're passing your local Wilkos, then you won't have to pay £4.95 for delivery.
Thanks to wishihadadonkey at HUKD