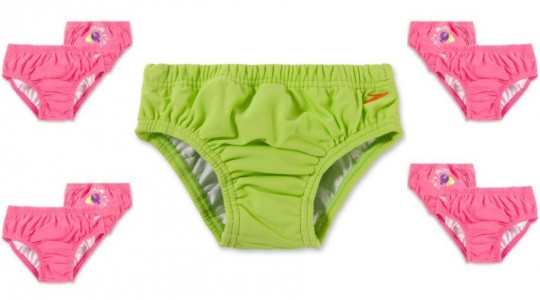 Have baby, have them swim in a Speedo Tyke AquaNappy and pick them up for just £5 each at Newitts - the cheapest I've found them anywhere else, having had a quick scout around, is £8.
I discovered Newitts the other day when I wrote a deal for Massive Googly Balls - I subsequently bought five of them and was SO impressed by the service from Newitts that I wish I could buy everything I'll ever need in the future from them!
So I have absolutely no concerns about sending you to them to pick up a Speedo Tyke AquaNappy or two.  Swimming is a great skill to have; everyone should learn to swim from as young as possible as far as I'm concerned.
Not only is it important from a water safety point of view, but it's fantastic for keeping fit and above all else, when you're little, it's FUN!
These Speedo Tyke Aqua Nappies are ideal for parents who hate the idea of disposable nappies in any shape or form - whether they be for use on dry land or in the swimming pool.
They have an adjustable waist with velcro and tie cord fastening, they have leak guards and a PVC inner liner for superb moisture management, feature a soft toweling gusset and are machine washable - they sound just perfect for little environmentally conscious swimmers to me!
There are no delivery charges to add onto your Speedo Tyke AquaNappy order - all you have to do is sit back, enjoy fabulous service from Newitts and then go swimming.
Speedos for babies? That's just too cool!