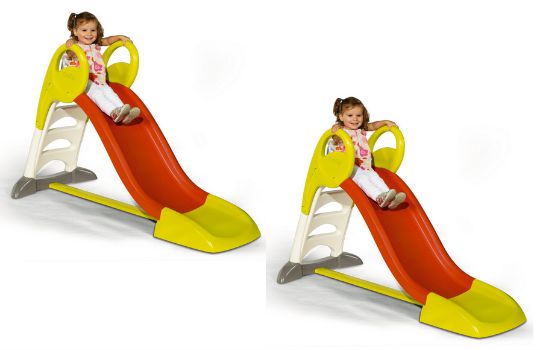 We know that the warm weather has been and gone, even though we blinked and missed it. However, don't let that stop you picking up garden toy bargains, as this is the time of year where everyone seems to be selling them off. Amazon have the Smoby KS Garden Slide for only £26.12. This slide would normally cost you around £55 to £60. Toys R Us are selling it for £59.99 and Argos at £52.99. Plus Amazon, will give you FREE delivery on it, as it's over £20.
There is something very special about the Smoby KS Garden Slide, something that sets it apart from other chunky plastic slides. It's actually a water slide too. Okay, so that's probably not something you would use at this time of year but come next summer, it'll be a nice surprise for the kids.
All you do to turn it into a water slide is to attach a hose at the special bit on the chute.
At this price, I can see this Smoby KS Garden Slide selling out so you need to be on the ball, if you want one.