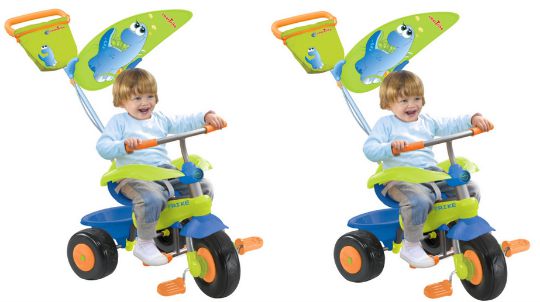 Summer is the time of year to be out and about. SmarTrikes are super popular and we can see why. Those times when your little one doesn't want to go in their buggy, SmarTrikes are the answer. Strap them in and off you go. We had one of these with my eldest and it was really a Godsend. Amazon have the SmarTrike 3 in 1 Candy for just £25  just now and that includes FREE delivery. This very same Trike (different colour) is selling at Tesco Direct for £39, so this is a great price.
The SmarTrike 3 in 1 Candy has a wide grip, parent handle that you can use to steer the trike. The pedals are non-slip and the handle bars for the child are covered in rubber grips, so they can hold on tight.
These are a fun way of getting your child about and they do find it fun. There's a seat belt so you don't have to worry about your tot falling out or escaping.
If your little one doesn't wish to pedal then they can use the retractable footrest to pop their feet up off the floor. The SmarTrike Candy 3 in 1 is recommended for children aged 10 months-3 years old.
It has the ability to turn from a baby tricycle to an independent tricycle which means it'll last your little one longer.