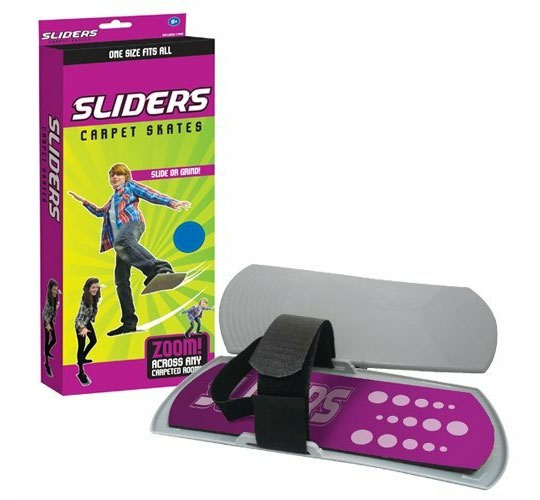 These Sliders Carpet Skates look a little bit bonkers and a LOT of fun for £4 (and I'm thinking more for grown ups than the kids!)
My best friend, when I was five, was called Tanya and the hallway in her house had a very shiny wooden floor that was just PERFECT for skidding on, whether it was in our socks or on top of the rugs that her mum strategically placed along it.
It was too much fun and these Sliders Carpet Skates look to be the closest I'll come to being able to recreate those skidding moments, on carpet.
But you know, apart from being a bit of a lark, I reckon these Sliders Carpet Skates could have a positive side effect on bottoms and thighs that are in need of a bit of tightening up!!
Cross country skiing is massively effective for this so but you do require plenty of snow.  So rather than relocating to the North Pole, you could don a pair of carpet sliders and 'cross carpet ski' your way to a pert bottom!
I think I'm actually going to buy a pair and trial them to see if I've struck on a piece of toning GENIUS, or whether I've just completely lost the plot now.  YOU, on the other hand, could just buy them for the kids to mess around with.
Thanks to wishihadadonkey at HUKD