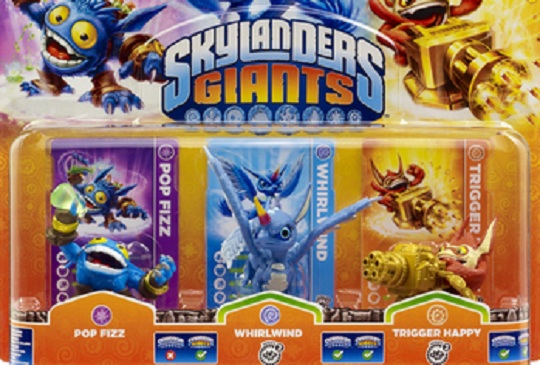 Aid the battle of the Skylanders with the exciting Nintendo Wii Skylanders Triple Character Pack for only £24.97 at Curry's. They offer free home delivery within 5 days or you can order on the website and collect in an hour from your nearest Curry's. But hurry, there are only a few left so click through NOW!
Skylanders are HUGE in my house. My daughter has the range of Skylanders and giants and is well on her way to saving the Skylands from the evil Kaos. This cool pack comes with the characters Pop Fizz, Whirlwind and Trigger Happy and I find they work brilliantly as rewards for excellent behaviour – I call it 'incentivised training'..
Just so you're in the know.. Trigger Happy lives up to his name turning up in a small village one day with his custom-crafted shooters and saving it from bandits. Pop Fizz is known to be a little crazy, his experiments are reckless, and the accidents they cause are on a dangerous scale. Whirlwind is an air dragon with unicorn ancestry, harnessing the tempest power within her. She uses her ferocity in a brilliant and powerful rainbow that can be seen throughout Skylands. As well as these exciting characters, Nintendo have included trading cards, stickers and posters, adding an exciting touch to your game.
So if you already have a Portal of Power connected to your Wii, PC, PS3 or Xbox 36, make your child's day with this Skylanders Triple Character Pack – at only £24.97, Curry's will send your popularity points with your child sky-high!