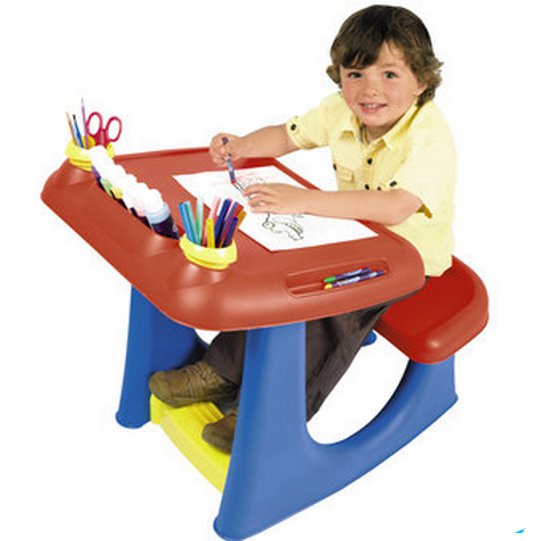 There's 50% off the Universe of Imagination Sit 'n Draw Creativity Desk at Toys R Us, reducing the£34.99 desk to £17.49.
This Sit 'n' Draw Creativity Desk is a self-contained art station, perfect for little artists who like to get on with it without too much adult interference.
The workstation has rounded corners for 'added safety' so there shouldn't be too much danger of anyone getting caught on the edges, and since the desk doesn't detach from the chair, you're not likely to trip over it in the night.
There are pre-designed grooves and slots in the desk, such a s a space for crayons and pens in use, two 9cm pen pots and another groove for other storage – in the case of the picture, it contains paints.
While this set comes with the pen pots, it doesn't come with any other accessories.
I just love the idea of a place for all the crafty stuff, and would be conned into at least hoping that they wouldn't end up all over the house.
Thanks to Aunty Jane at HUKD