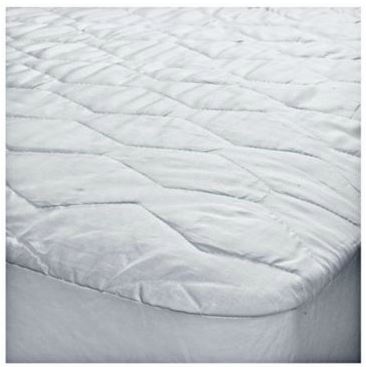 Tesco has a sale on their single and double mattress protectors, which are reduced to £3, although I don't know what from. The king size is £11.50, so it seems a decent amount cheaper.
We have the most gorgeous mattress. We absolutely love it. No matter where we travel, getting home and sinking into our bed is awesome. Recently, however, I made the shocking discovery that our mattress isn't in great shape. Having two children in it for up to four years has taken it's toll. That and coffee in bed. It is covered in all sorts of stains, which even washing with upholstery shampoo hasn't done enough to make it look new again. So a mattress protector would go a long way to saving it - unfortunately it's a king sized bed, and they're not included in the offer. Bummer.
These mattress protectors are white and come one in a pack. The cover material is 100% cotton, while the filling is 100% polyester.
The good thing is that it can be washed at up to 40 degrees, and also tumble dried for quick turn around.
The reviewers say that it's a good product, as good or even better than branded products.
Thanks to ahizraz at HUKD