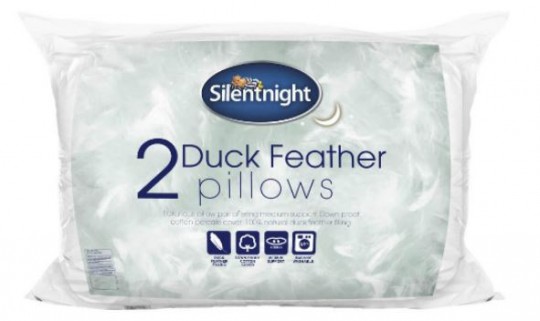 Tesco have a two pack of Silentnight Duck Feather Pillows on offer for £13 instead of £26.
As the family pack up and leave after Christmas, and you're about to pack the spare bedding away, it may be a good time to reivaluate the cushions and see whether they're really good for putting your own, or someone else's head on. I was quite surprised when I got my bedding out before Christmas to find one of the pillows was a yukky manky brown colour - the pillow case itself looked pristine. Let's just say I was pleased my mother didn't see that pillow. And that I wished this sale had been on then!
I don't know much about pillow grading, but this 2 pack of Duck feather pillows offer medium support, and are filled with 100% natural duck feathers and feature a down proof cotton percale cover. For cleaning convenience, the pillows are machine washable at 40°C and can be tumble dried.
A bonus before packing them away, ready for the next set of visitors.