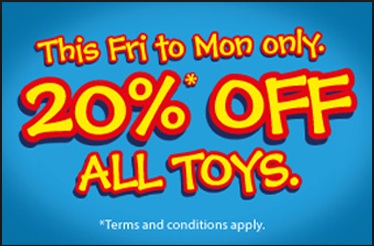 We hear via the grapevine that Smyths Toy* sale will be coming up next week, starting on 19 September both in store and online.
We don't know yet what will or won't be included in the sale, though based on past experience, we expect that it won't include computer games, but will include bicycles.
Last year the website crashed when the sale went  live, and we have heard stories of people queuing down the street and filling two or three trolleys with goodies for Christmas, birthdays and so on, so what we do know is that it will be popular, busy and you'll have to be very, very quick.
Keep an eye out here though, as we hear more, you'll be the first to know!
Follow PlayPennies on Facebook and Twitter to be sure to get the updates as they happen.