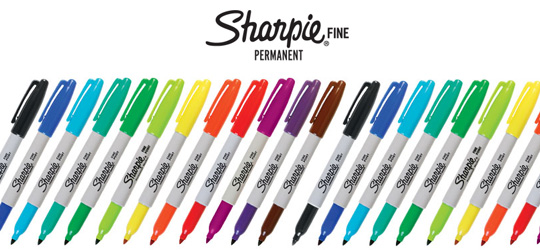 If you need, or want, permanent marker pens in your life then you must get yourself over to Rymans before 30 July (that's Monday) and bag yourself a rather fabulous Sharpie deal!
Twenty four Sharpie Fine permanent marker pens will be yours for half price - £9.49 instead of £18.99 (Amazon are currently selling this limited edition set for £16.99, LOOK - AND next day delivery has been thrown in for free too; marvellous.
I reviewed a selection of Sharpie permanent marker pens back in November and they were (still are!) great - you can read the entire review HERE
I stand by everything I said about them then and they're all still going strong, despite abuse from a six-year-old and (probably) over-use from a nearly 17-year-old who loves to draw and doodle and 'pattern' over everything.
Permanent marker pens aren't just for writing on burned CDs and DVDs (although that's pretty much all I use them for, but NOW I have different coloured writing on all my CDs) you can use them for other things.
My favourite cheapo summer holiday idea has to be decorating a pair of plain white plimsolls/canvas deck shoes and turning them into a unique stand-out-from-the-crowd creation - great fun for the kids and rather fun to wear during the holidays, before sensible back-to-brown-or-black-school-shoe-wearing recommences in September.
Thanks to toomanychoices at HUKD