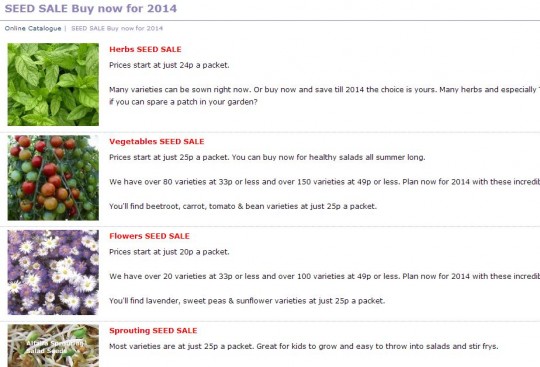 Park Promotions UK Ltd have a sale on seeds right now, and it's well worth having a look if you're interested in gardening.
I've put a huge effort into my garden this year, and the weather has not helped. If it all works out, I shouldn't have to buy very many vegetables at all, come July, August, September. The problem is seeds cost a fortune, and there are no guarantees you're ever going to get any fruits from your labour. I've also really wanted to plant some wild flowers, but at our local garden centre they're almost £10 a box, and the local hardware shop has them for £2 a pack, so getting them at Park Promotions UK Ltd is a huge saving at 25p!
Park Promotions has reduced their seeds to as low as 25p per packet. They don't specify how many seeds you get in a packet, and I'm told they come without pretty pictures on the cover, but you don't really buy the seeds for the picture of the flowers.
For four packs of seeds I paid 50p shipping, and I'm looking forward to their arrival.
You can buy herbs, vegetables and flower seeds, all of which can be saved for next year, and some of which can still be planted this year.