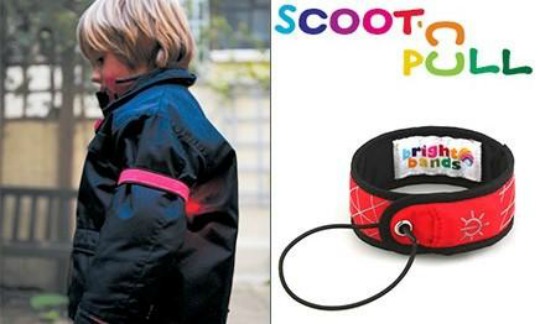 With the dark nights starting from 5pm daily, I worry like mad about my kids playing outside. Where we live, there's always kids out on the street and at the park. It's nice to see but what freaks me out is that when it's becoming dark, kids can become less visible. Little Bird have a great offer on a product that can help this problem and hopefully lessen any accidents. Scoot 'N Pull Bright Bands are just £3 instead of £5.99 each, and come with FREE delivery, when bought via Little Bird.
The Scoot 'N Pull Bright Bands come in one colour only on Little Bird, red. They feature a flashing setting which will be easy to spot when you child is walking to or from school.
They will be a novelty to kids which will make them want to wear them. You can fasten them to school bags as well as putting them on your child's upper arm.
A great thing to spend £3 and something I will be grabbing a couple of for my boys too.
Normally with Little Bird you purchase the deal and then you redeem it on another site, wherever the product is from. You don't have to do that this time, as the Scoot 'N Pull Bright Bands are sent out directly to you, as you purchase the deal on Little Bird.