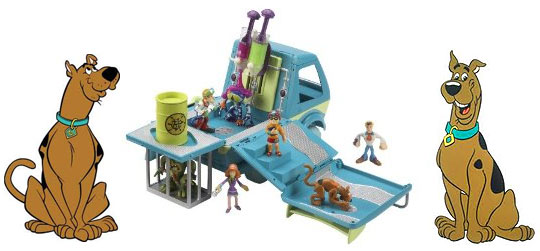 Calling all Scooby Doo fans!  Amazon are currently selling this Scooby Doo Mystery Machine for £15 instead of £22.99.
Scooby Doo has been part of my life for as long as I can remember; he was one of the few cartoon programmes my mum would sit down and deliberately watch with us, she even had her very own Scooby Doo hot water bottle at one stage.
My youngest has recently discovered the delights of Scooby Doo, he's a big fan but I'm not sure this Scooby Doo Mystery Machine is his cup of chocolate milk (he doesn't drink tea), so I'll leave 'his one' in stock for someone else to buy.
The whole Mystery Machine opens out to reveal what's been called the 'play arena' and according to one review is a great Mystery Machine when it's all folded up too.
The big disappointment here, though, is that it doesn't come with any of the characters that are shown in the picture - which I think is a bit misleading.  Here's what one reviewer had to say what you do and don't get with the Scooby Doo Mystery Machine...
"The mystery machine does not come with any of the figures - no mummy, no ghost, no scooby doo, Shaggy, Vilna, Daphne or Fred to my son's bitter disappointment. It only comes with one tub of goo; the picture implies at least 2 as 2 colours of goo are shown."
The Scooby gang cost an additional £14.99 and a collection of baddies, £12.99.  Cheer up, at least delivery is free with the SuperSaver option.
Thanks to mucklebones at HUKD