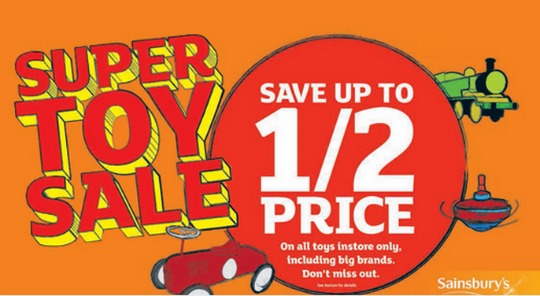 We have had confirmation that the Sainsburys Toy Sale is definitely starting tomorrow! Here's what we know is definitely in the sale so far:
Lego Large Creative Box (was £44.99) Now £33.32
Crayola Pink Airbrush Maker (was £29.99) Now £11.49
Avengers Titan Hero Figurine Assortment (was £12.99) Now £6.49
Transformers Bumblebee (was £49.99) Now £32.33
Disney Frozen My First Doll Assortment (was £24.99) Now £16.65
Barbie Doll and Unicorn (was £24.99) Now £12.49
Disney Cinderella Carriage and Doll (was £42.99) Now £21.49
Matchbox Shark Ship Marine Rescue (was £39.99) Now £19.99
Thomas Trackmaster Busy Quarry Set (was £42.99) Now £21.49
Grow and Play Rocking Tracy the Giraffe (was £39.99) Now £19.99
There have been so many of you asking about the Sainsbury's Toy Sale that we are going to update you with what we know so far plus the date we believe it's going to happen...
The BIG Sainsbury's Toy Sale is an huge event where just about all toys in store are up to half price, so it's understandable that we are all clamouring to get the date.
The date we think it starts this year is Wednesday 21st October. I have to stress that this has not been officially confirmed by Sainsbury's themselves as understandably they want to keep the date a secret until launch. However two different people who work for Sainsbury's have contacted us here at Playpennies to let us know it's going to kick off on the 21st.
As much as they try to keep it a secret, promotional material has to be printed and staff cover has to be arranged so these are the guys in the know! We know you all want to book days off work and make arrangements to get the kids sorted so you can shop (in recent years it's been in store only) so hopefully this heads up helps us all!
If we hear any more information we will be sure to share it with you, so bookmark this page for updates!