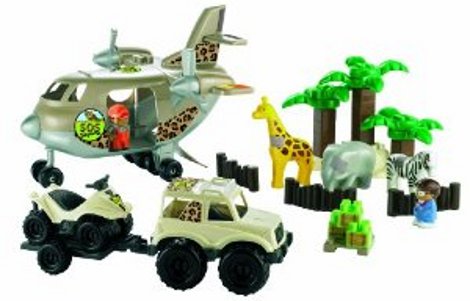 This safari plane set from Debenhams is currently £13.50 – a saving of £31.50. At Amazon, it's £7 more, at £20.50, although also on sale, and Play.com have it at £24.99 with free delivery.
A fun little imaginative play set, this safari rescue plane set from Ecoiffier comes with palm trees, a toy helicopter, a car with a trailer, and zebra and giraffe figurines. There's not much information on the site, so I've had to piece it together from around the web, but overall, people seem to like it.
There aren't much by way of reviews, but the Amazon reviewer says it's a rather robust little set, and very good value for money, and the Debenhams reviewer calls it "one of the best gifts" they could ever have bought for their grandson.
According to the product information, this set has 64 accessories. It would be nice to have them listed, but alas.
Delivery is £3.99, which is quite steep, but still cheaper than anywhere else, and it does seem to be a winning little play set.
Thanks to andywedge at HUKD