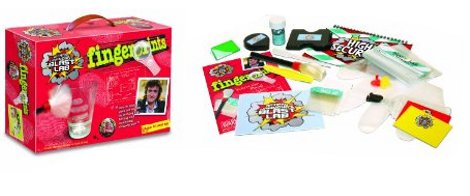 There's 37% off the Richard Hammond Blast Lab Fingerprint set at Amazon. It's selling for £10.63, including delivery, instead of £16.99.
The Richard Hammond Lab Fingerprints set has a range of activities for finding, lifting, recognising, comparing, taking and recording fingerprints – you can have your whole own police line-up at home.
Based on Richard Hammond's Blast Lab TV show, the only criticism of this kit is that it's too expensive for what you get, and that it's really trading on the name, so with the discount you should get a bit more value for your money.
The kit contains:
1 x fingerprint file
1 x brush
1 x tweezers
2 x fingerprint rings
1 x ink pad
1 x magnifying glass
5 x evidence bags
1 x pair gloves
1 x black ink
1 x acetate
5 x fingerprint lifters
1 x plastic badge holder
2 x cardboard badge inserts
1 x sticker
1 x strip of barrier tape (c90cm)
Instruction Manual