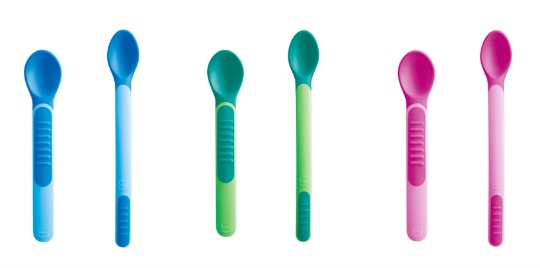 We're just inching our way tentatively towards weaning territory in our house - and it's been several years since we last did this - so I'm a bit rusty on the old what-to-feed-a-baby-when front.
But what I do know is that we need feeding utensils - and plenty of 'em, based on the rate at which I used to lose the flipping things feeding my kids on the go back when they were tots.
So when MAM sent us some of their fab new spoons (which come with a handy lid attached) I was keen to try them out, as was my little foodie friend.
The spoons are fab and everything you'd expect in a feeding spoon from a brand like MAM. You get two in a pack - one long and thin so that parent and child can hold it together, and one short and broad so perfect for a baby sized hand.
But my favourite feature is that the spoons come with a little lid attached, and it lets you keep the spoons separate from each other. The benefit of this is that they stay scrupulously clean whilst being carted around in even the messiest of change bags, plus if you're feeding on the go and unable to clean the spoon after use, you can pop it back in the container without having to worry about it making other things mucky.
So if you're shopping for baby cutlery, I recommend these spoons. They're £5.99 for a pack (of two). Check them out at the MAM Online Shop.