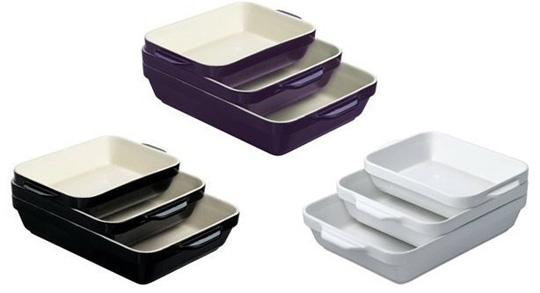 I've just been mooching through the kitchen section in Amazon's Boxing Day Deals of the Week and came across these Raymond Blanc 3-piece rectangular dish sets.
I have a real soft spot for Raymond Blanc - I love that he's one of the greatest chef's in the country, that he's not 'in your face' like some of our celeb' chefs (I'm sure you know who I'm referring to) and that he's self-taught; just fabulous!
I watched his Christmas special a couple of weeks ago and can only imagine how amazing it must be to be part of the Blanc family, going to his house for Christmas dinner - or any dinner for that matter.
Talking of Christmas dinner, how was yours?  Did you have enough pots, pans and serving dishes?  I never seem to have enough of anything in my kitchen (including space - I could do with a bit more of that too) especially dishes that are large enough to either cook or serve things in.
I really like these three Raymond Blanc rectangular dishes - they're three different sizes, are dishwasher, microwave, oven and freezer safe and will only set you back £30.  They're also designed to stack together too, so they won't take up too much space either.
There are three different colourways to choose from and they're all being snapped up rather fast - but don't worry, there are more of each colour arriving at Amazon soon, so you're not going to miss out, you might just have to wait a little longer than you want to for them to arrive.
They also carry a five-year guarantee too - hurrah!