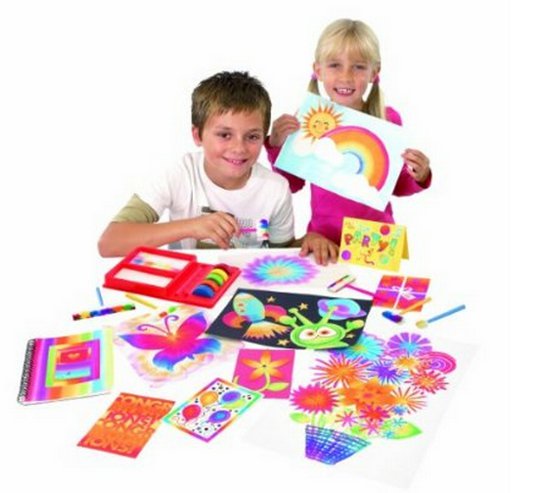 Another of those 'save for summer holidays' activity sets, in my view, is the Rainbow Art Activity Set from Flair, selling at Amazon for £3 instead of £9.99 – nothing like a 70% saving to put a smile on most faces.
It's important to note with this set that you only get the six paints, four non-drip brushes and a paint tray – you have to add the paper, card and stencils and so on. Which makes the £3 price tag a whole lot more acceptable, I'd say.
Judging by the picture, your paints come on six non-drip rollers, which you then use to dampen the sponge brush. You then paint by sweeping and dabbing with the fast drying colours, swapping paints to mix up the colour combinations.
Unfortunately the reviewers don't actually say much about the kit or how it works, so it's up to you to decide whether its worth it or not.
The pictures are definitely impressive, but it may take a fair bit of practice.
Thanks to shadow1 at HUKD