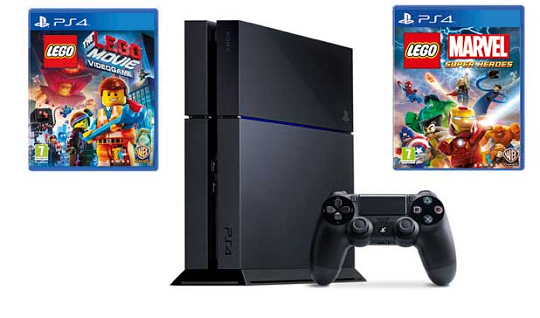 This is a great deal from Argos, especially if you were keen on getting a console for the kids and weren't sure which platform to choose. The PS4 is, in many ways, far superior to the Xbox One and this bundle includes brilliant games for kids.
The Lego Movie game is ooohkay. I mean, the kids will probably enjoy it, but it really isn't much to write home about. The Marvel game, on the other hand, is brilliant fun for all ages so you can enjoy playing with your kids as much as they will enjoy gaming away by themselves.
This particular PS4 is super slim, it has 500GB of storage space (much needed) and superb graphics, power and speed. It has lots of extra social capabilities and there's a game you can only get with the PS4 that is so darn good for kids and grownups that I'm tempted to buy this just so I can get that game!
Thanks to gingehero at HUKD!