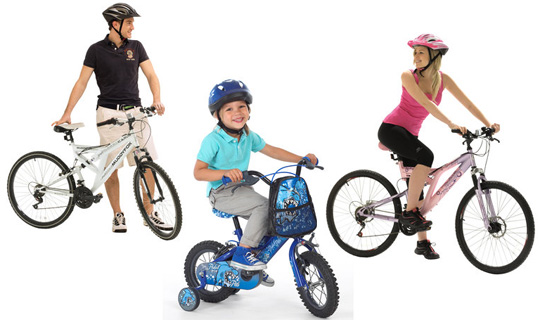 Toys R Us have a half price bike sale going on at the moment - bikes for little people and bikes for big people too.  So if you're in the market for a bike, or even a family of bikes, get yourself over to Toys R Us and bag yourself a bike bargain!
A childhood without bikes in it, would be a very deprived childhood indeed...at least, that's what I think.  I remember three of the bikes I've owned in my lifetime, clear as day, and they were all birthday presents.
The first one was for my fifth birthday - it was lilac and it had a little carrier thing on the back (I put my tea set in it once and pretended I was off to have tea with the Queen; I fell off that day too and can still see my tea set strewn all over the street).
The next bike I remember was my Raleigh racer - you know, a proper racer with the drop handlebars - and it was called a Whisper.  In fact, that bike is still hanging up on the wall in my mum's garage! That bike racked up some mileage - I used to ride it to school, so six miles a day, five days a week (rain or shine, I'll have you know!), for two years.  It was my 14th birthday present.
The last bike, was a present to myself four years ago - and it felt VERY weird, riding a bike again. You know that saying, "...it's like learning to ride a bike: once you've mastered it, you never forget," or something like that anyway; well, I can tell you that you might not forget, but you're certainly a bit wobbly for good while, before you get the hang of it again.
Prices start from £49.99, and go right up to £109.99 for a Muddy Fox (they've always been cool) and there are biking accessories available too.
Happy biking!