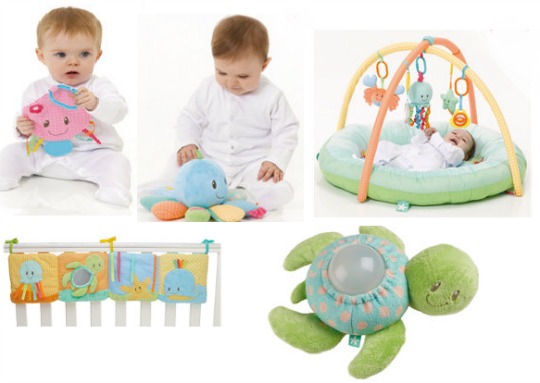 If you are looking for cute baby items for gifts or for your own precious bundle then you just have to go over to the Mothercare site. They are currently running a half price offer on Baby Ocean range of toys. Prices start from £1.99 and are available from the Early Learning Centre too, but a lot of the best stuff has sold out.
Wow! This Baby Ocean range at Mothercare is absolutely gorgeous. Everything looks plump, plush and cuddly. The colour scheme throughout the range is vibrant greens, blues and orange mainly, but have been toned down for a softer baby like appearance.
No wonder a lot of this range has sold out at the ELC, it's very reasonably priced. For instance, the cheapest item in the range is the Baby Ocean Octopus blankie at only £1.99. These are completely sold out at the ELC, but still in stock at Mothercare. It's available in two colours pink and blue.
A lot of you lovely parents  love nightlights and there's one in this range in the form of a cuddly turtle. It's now only £7.49 and can be machine washed.
Here's another one that has proved very popular at the ELC but has good availability at Mothercare, the Baby Ocean Play Mat. It's £19.99 but was £39.99. It looks like the height of luxury for little ones and is very padded and plush.
You can collect any of the Baby Ocean range for free from your local Mothercare. Like I have said, this range is available at the ELC but is limited with some complete sell outs. If you'd rather have it delivered then it's £2.95.