Sam Thewlis is one of the lovely peeps over on the Bitterwallet side of the office. Instead of throwing pencils at us, she's been down to the NEC Baby Show, and here's the round up of all the happenings. [Emma]
It's that time of year again, The Baby Show is back at the NEC in Birmingham, and Playpennies have already been there to find the best show bargains and sniff out some exclusive deals for Playpennies readers...
Out and About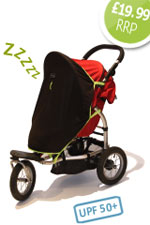 First up, and as featured on Daybreak this morning, you can get the fabulous Snoozeshade buggy and carseat covers, essential if you want your small person to get some sleep while on the move, for a great price. You can buy a SnoozeShade Original, limited edition Pink Trim or a SnoozeShade for infant Car Seats for only £15, and even if you can't make it to Stand R54, you can buy online at the same price until Sunday 29th May 2011.
Normally, Show visitors who miss the week's online extension can get 10% off online, but in a Playpennies exclusive, you can get 15% off and free P&P until 30 June 2011 by quoting code "playpennies15". [Snoozeshade.com]
Another product designed by a mum for mums is the Mamascarf, a discreet and tasteful scarf to provide privacy when breastfeeding. At the show you can get 1 Mamascarf for £16 or 2 for £30, but if you can't get to stand M10 at the show, Playpennies readers can use the code Keira01 to get 10% off online [Mamascarf.co.uk]
Of course, when you're out and about, you are probably going to need a stylish baby changing bag. There are loads at the Show, but here are three of the best offers: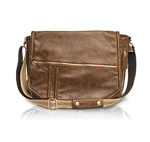 Koochu changing bags are designed to look like anything but. In glossy leather and stylish shapes, they are definitely going to last longer than nappies! With innovative features like removable (and washable cotton liners) in the LaSalle (show offer £85 instead of £105), the popular hobo style Lincoln (now £40 from £75) and a dashing men's changing bag (the El Dorado, down from £95 to £70), you be daft not to. And the people at Koochu on stand M50 are so lovely they have also given us a Playpennies exclusive: simply use code Koopp1 and get a massive 15% off until 30 June 2011. [Koochu.com]
But if leather isn't your thing, Mummy and Little Me are selling the delicious Yummy Mummy Bags on Stand E30 for a reduced price of £67.50 and you get a £5 voucher. And you don't even have to be there - the offers will be available on the website for the duration of the show, and Playpennies readers can get 10% off all changing bags for two weeks after the show with code Spring11. [Mummyandlittleme.co.uk]
Finally, Baby Catalogue are selling the best Australian-selling Ryco changing bags for half price in a pre-launch special. Although you can't get this deal online, you can get 10% if everything they sell until 31 July using code BBSH2011. [Thebabycatalogue.com]
Fun and Fleecy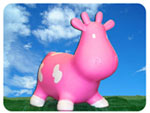 Again spotted on Daybreak, Happy Hoppers are normally £20 each, but a special show deal lets you get two for £30. However, if you whisper* "Playpennies" you can get one Happy Hopper for £15. Which is almost like a half price deal... [Happyhopperz.co.uk]
*it's another Playpennies exclusive so don't say it too loud!
Or have you heard of Coverdry? They are fleecy car seat and bed protectors that are completely waterproof that protect against those little accidents. As well as having the chance to enter a competition to win a luxury holiday to Wales at stand E4, the bed protectors are on sale at the show for just £25 instead of £35. And Playpennies readers can even get the same deal online by quoting "babyshownec" on the website. [Coverdry.com]
Freebies
Finally, there are lots of freebies to get while walking around, as ever, but worthy of note is the Peter Rabbit Organics stand on M12 who are giving out free cartons of juice for children from 6 months up. You can also go and get a (really rather good- Playpennies tested!) head, neck and back massage from Cloud9 massage on stand H30. It's not actually free but you can pay whatever you think it's worth. Even if that's 1p.
The Baby Show runs until Sunday 22nd May at the NEC, Birmingham.