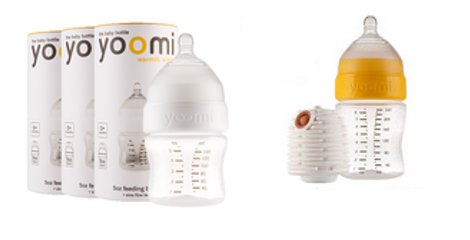 Yoomi is a brand of bottle that heats milk as it passes through the heating element before reaching baby's mouth. The bottle warms the milk to breast milk temperature in 60 seconds.
Find out more about Yoomi's self-heating bottles
Discount: 15%
Code: PlayPennies
Valid on: Everything, including sale items.
Valid till: 6 July 2011
As I've already said, Yoomi bottles have a heating element that causes the milk to warm to breastmilk temperature in sixty seconds. While this is actually pretty fantastic for breastfed infants drinking expressed milk, if you formula feed you'll know that formula is supposed to be added to water at least 70C (almost twice the normal body temperature) and left to cool so as to sterilise the powder – obviously our drinking water isn't a problem here.   While the Yoomi won't heat the water enough to sterilise the milk, once it has cooled down sufficiently to drink, Yoomi will make sure your baby is getting body temperature milk.
The good thing about it is that it doesn't heat the milk that's still in the bottle – it heats it as it passes through, so there's no warm milk hanging around if your baby doesn't drink everything at once, and isn't being constantly cooled and reheated.
The website has plenty of information about the product, including video instructions, so have a look if you want to find out more.
On offer is, well, everything in the range – so you could buy the 5oz bottle with warmer, normally £22.50  or the already discounted duo set for £41, which, discount applied, will cost you £19.12 and £34.85 respectively.
Postage is between £2.99 and £4.99 depending on the weight of what you buy, but for a limited period, there's free postage on all UK orders over £10 anyway.