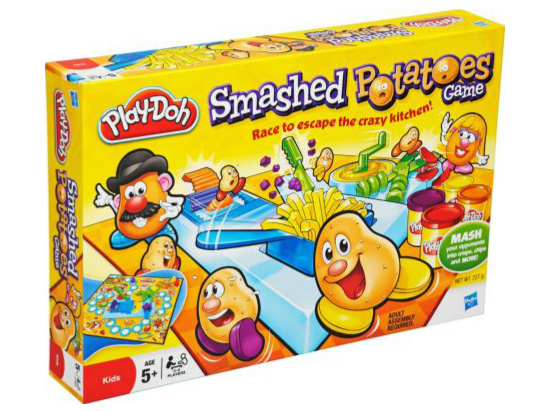 Argos are selling this Play-Doh Smashing Potatoes board game for £7.50 when it's usual price is £21.99.
I've not come across Play-Doh Smashing Potaotes before, so I watched the little video demo' that's on the Argos website - it looks BRUTAL, kids will love it!
Basically, you have to get your Play-Doh potato model around the board without it being sliced in half, turned into chips or rolled out flat! I've just had a flash forward of playing this with Edward and can hear howls of despair as I ruthlessly turn his Play-Doh spud into french fries - I know I said the kids will love it but, judging by some of the reviews I've read, it seems that adults enjoy it just as much too:
"Good fun with plenty of laughs all round game for kids and adults"
"My 5 year old son received this for his birthday after wanting it for the last 9 months and it didn't disappoint he loves it and I have to say its not a bad game you all get involved and quite competitive wanting to smash each others potatoes would recommend."
"Good fun game, ideal for 4-6 year olds, maybe up to 7 years. Above this it is a bit too basic. But good fun, good rules and not too long to play. Recommend absolutely for young children!!"
If your local Arogs, or one close to a friend or family member (enlist all the help you can get, when it comes to Argos stock, I say!) then you can pop in and collect your Play-Doh Smashing Potatoes board game for free.  Alternatively, if you'd rather stay in the warm and don't mind parting with an additional £3.95, have them deliver it to you instead!
Thanks to wishihadadonkey at HUKD